TECHNICAL DETAILS OF A 1MW BIOMASS GASIFIER


Gasification is a process by which solid biomass is converted by a thermo-chemical process into clean gaseous form in a solid Bio residue gasifier. The process involves subjecting the solid biomass to partial pyrolysis in sub-stoichiometric quantities of oxygen, resulting in the formation of producer gas, which is composed of 18% H2, 20% CO, 2% CH4, 12 % CO2 and rest N2 and has a mean calorific value of 4.7 MJ/Kg. The gas is then piped to a gas engine generator, and the electricity generated is grid synchronized for evacuation to the State Electricity Grid.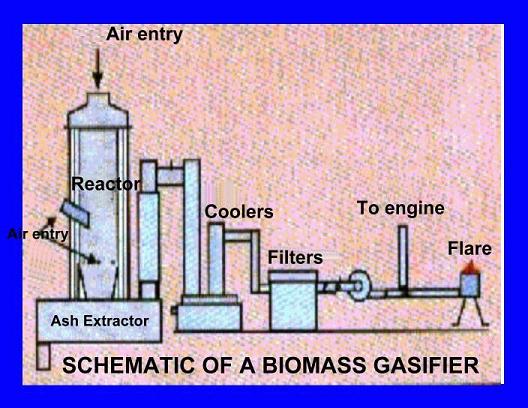 SYSTEMS

The Power Plant shall consist of the following:

A. A. Gasification Plant.
B. B. Power Package.
C. C. Auxiliaries.


GASIFICATION PLANT

The Gasification Plant is engineered incorporating all the necessary safety features for long term reliable performance, with minimum down time for maintenance. The system consists of gasification reactor of 1000 kg/hr capacity, a scrubbing system for cooling the producer gas, a high efficiency cleaning system to clean the gas to extremely high quality for rendering it suitable for engine operation and necessary ducting to the engine. The gasifier system is rated at a feed consumption of 1000 Kg/hour at 100% capacity and generation of one MW. This system is also designed to accept a wide variety of properly sized solid bio-residues such as chopped coconut fronds, coconut husk, corn cobs, mulberry stacks, cotton stalks, weeds like Prosopsis Juliflora, Ipomoea with a moisture content around 15% or briquettes from agro residue such as rice husk, de-oiled rice bran, coir pith etc. of known composition. Typical consumption of biomass would be 1.0 kg/kWh generated, depending on the ash and moisture content of the biomass. The Gasification Plant incorporates the following sub systems.


GASIFIER REACTOR

The reactor is a cylindrical vessel made of mild steel, with an inner lining of cold face insulation bricks and ceramic tiles composed largely of alumina. Air nozzles, provided around the combustion zone, are kept open during the running of the system. To allow for uniform air availability across the reacting bed, an additional air nozzle called the central nozzle is directed to the reactor core. A water seal with a removable cover forms the top of the reactor, which is kept open during the entire operation of the system, to facilitate primary air induction and loading of feedstock. A grate is provided at the reactor bottom to hold the char or ash as the case may be, with a mechanism for intermittent extraction of char/ash.

GAS COOLING SYSTEM

It consists of a direct water impingement cooler, which is meant for cooling the hot gases from the gasifier reactor to ambient for engine applications and scrubbing the gas to remove the entrained tar and particulate matter. When the gasifier system is operated at the rated load, the system requires 80 M3/Hr on a continuous basis for a one MW rating. The coolers perform the twin functions of cooling and cleaning the producer gas.


GAS FILTERING SYSTEM

This sub system consists of a series of a quartz based gas filter, a bag filter, a catalytic converter and a fine quality paper filter. The purpose of the filtering system is to reduce the quantity of tar, particulate matter and moisture in the gas to levels that are acceptable for direct admission into gas engines.

BURNER

This is provided to check the initial quality of the combustible gas as also for emergency flaring.



INSTRUMENTATION & CONTROL AUTOMATION

The Instrumentation consists of automatic gas flow meter and pressure indicators located on-line to monitor the quantity and rate of gas production. Instrumentation is also provided for monitoring temperatures in the reactor, automatic retraction of top cover, automatic start/stop of the bucket elevator, automatic control of gas feed into the engine and automatic char/ash extraction. Relevant parameters such as system pressures along the gas flow path, gas consumed by the engine and operating parameters such as pressure, temperature, etc are also displayed for operational convenience.

CONTROLS & SAFETY FEATURES

The system shall be provided with the following safety elements

1) Oxygen monitoring system - to indicate if there is any leakage of air into the system, forewarning the operator to take necessary preventive action.
2) Water seals - most of the system elements are provided with water seals to release pressure in the event of the system getting pressurised. The water seals, with their low-level bubbling noise, also act as adjunct annunciators of system pressure build-up.
3) Automatic reactor shut off - to shut off the reactor automatically in the event of power failure.
4) The automation for start-up consists of a plc based control system, which controls the following actions:
5) Automatic retraction of top cover with pneumatic arms.
6) Automatic positioning of two-way chute.
7) Automatic cut-on and cut-off of biomass loading in the reactor using ultrasonic sensors.
8) Automatic control of blower operation providing secondary air to the reactor.
9) Automatic extraction of ash from the grate bottom.
10) Automatic control of air blower speed to suit engine requirements.
11) Automatic emergency flaring of gas.
12) Automatic emergency shutdown of reactor.

COMPUTERISED DATA ACQUISITION SYSTEM

The plant is provided with a computerised data acquisition system to facilitate automation and easy access to real-time operating parameters. The following relevant data pertaining to systems operation can be recorded and acquired on-line on the computer:

1. 1. Reactor temperatures at different zones.
2. 2. Biomass consumption rate.
3. 3. Gas-flow rate.
4. 4. Technical trouble-shooting.
5. 5. Maintenance Schedule, both preventive and breakdown.
6. 6. Technical manual.



AUXILIARIES

BIOMASS SIZING SYSTEM

The plant should incorporate size reduction unit for cutting the biomass into smaller pieces prior to feeding into the gasifiers.
BIOMASS TRANSPORTATION SYSTEM

The biomass shall be transported with the help of a front-end loader, which consists of a tractor provided with front-loading articulated arms fitted with loading bucket, for loading it onto the hopper of the bucket elevator.

BIOMASS CONVEYING SYSTEM

Operation of the gasification plant requires loading of biomass into the reactor in a continuous batch wise basis. At full load of operation, 1000 kg/hr. system consumes biomass at the rate of 1000 kg/hr. The Power Plant has a Bucket Elevator of suitable capacity to facilitate continuous loading of biomass into the two reactors via two-way chute.

WATER TREATMENT PLANT

As mentioned earlier cooling water is required for cooling and scrubbing of the gas prior to supply of gas to the engine. Cooling water of about 80 M3/hour is required on a continuous basis. To optimise on the utilization of limited resources, the system will recycle the wash water. The Power plant incorporates a Water treatment Plant for continuous filtration and purification of water.

COOLING TOWER

A Cooling Tower is provided for cooling the recycled cooling water, after water treatment, to maintain its temperature within the prescribed limits.

CHAR EXTRACTION UNIT

The system is provided with Char Extraction Unit consisting of a screw blender for intermittent extraction of char/ash. The coconut charcoal, which has commercial value as an industrial adsorbent, is milled to the required size, bagged and sold.


PROJECT REQUIREMENTS TO BE PROVIDED AS CLIENT'S SCOPE OF SUPPLY

SITE REQUIREMENTS FOR THE POWER PLANT

The land required for a one MW power plant is 1 Acre. The land will have to be graded and leveled and provided with main gate, perimeter fencing, access roads, parking areas, security room and cycle stand.

BUILDING REQUIREMENTS FOR THE POWER PLANT

The general requirements for Civil Buildings (Client's Scope) for the Power Plant are as follows:
The estimate for machinery foundations is about 36 cubic meters. Other building services such as sewerage and water connections, fire alarm system and telecommunication facilities need to be provided.
MISCELLANEOUS ASSETS FOR THE POWER PLANT
The Client has to make provisions for furniture and fixtures, office equipment, canteen equipment, safety & medical equipment, maintenance workshop equipment, laboratory equipment housekeeping equipment besides utilities such as bore well and pump.
DETAILED OFFER FOR 1000 KG/HR BIOMASS GASIFICATION PLANT

SCOPE OF WORK

The Scope of Work shall be Supply, Installation, and Testing & Commissioning of 1000 kg/hr Biomass Gasification Plant. The Scope of Work shall generally be as under:

A. Supply & Installation

1. FABRICATION, SUPPLY & INSTALLATION OF COMPLETE GASIFICATION PLANT CONSISTING OF
1.1 Gasifier Reactor 1000-kg/hr
1.2 Gas Cooling System
1.3 Gas Filtering System
1.4 Burner
1.5 Instrumentation
1.6 Controls & safety features
1.7 Computerised Data Acquisition System.

B. Testing & Commissioning
1. Testing & Commissioning of the complete Gasification system to ensure that performance guarantees and specifications are met.
C. Performance Monitoring
1. Monitoring of performance for a period of 6 months after commissioning to ensure that the Gasification Plant performs to specifications for extended periods in grid connected mode.

CLIENT'S RESPONSIBILITIES

A. Land
1. Provision of land at Client's cost for setting up the Gasification Plant.
B. Design & Detail Engineering
1. Design, detail engineering and construction supervision of all components of the Project other than the gasification plant such as civil, mechanical and electrical including evacuation.
C. Civil Work
2. Execution at Client's cost of all Civil Work connected with the Power Plant generally as per our Plant Building Layout and detailed civil drawings, such as Raw Material Storage Shed, Gasification Plant Shed, & Effluent Treatment basin etc.
D. Other Project Costs
1. Provision at Client's cost for expenditure on other Project Costs such as Miscellaneous Assets, Pre-operative Expenses, and Contingency provisions, Working Capital Margins etc.
E. Clearances & Sanctions
1. Provision at Client's cost of all necessary information to statutory and other authorities and obtaining early clearance and approvals without causing delays in project execution.